You only get one chance to make a first impression when meeting someone new. I feel like the front porch area is the first impression your home gives to everyone who comes knocking. The front door is kind of like a big smile when you meet someone new. I want my front door to be beautiful and something special that people will remember. I already have Welcome written across the middle but with different seasons I want to add a little something more. So I started searching for some inspiration online. Here are a few front doors I found that make me just want to go inside and interrogate, I mean meet and interview the crafty person who lives inside.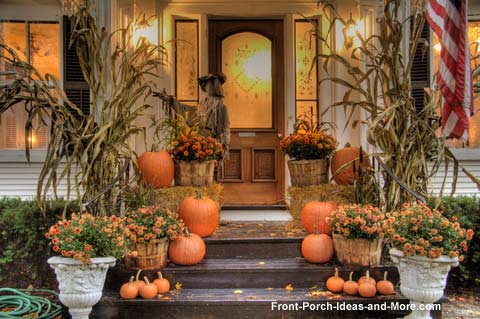 After my google work and catching up on some of my favorite blogs I decided to make an autumn wreath for our front door. I unfortunately didn't have any of the materials for the wreath, well I did have the copper glitter and beads so I didn't have to buy everything new.

Luckily Michael's just had a ton of coupons for Labor Day so I was able to save money on almost everything I bought. I picked up a grapevine wreath, Japanese Lanterns, ribbon and spray adhesive.
First I covered my table and counter with newspaper. I used the table to spray the wreath with spray adhesive then quickly moved the wreath to the counter and sprinkled copper glitter over the whole thing. I let it sit for a minute, tapped off the extra glitter and moved it back to the table. This is so the extra glitter doesn't stick to the newspaper. If you need more glitter you can repeat this step as many times as you want until you're happy with it.
While the glitter dried I used wire cutters to cut off the "stems" of Japanese Lanterns. Then strategically stuck the stems in the wreath. I pulled off the green leaves because this is an autumn wreath and I didn't want a lot of green. Where I pulled off the leaves I pushed a small glass bead for just a little more sparkle.
I liked the wreath with just glitter, flowers and beads but decided it needed a little more. Like a giant R in the center. I've had this R for a while now, I got it on clearance from Kohl's last year. It was painted black which was great but for my wreath I decided to spray it with some ORB (Oil Rubbed Bronze.)
So, what do you think? Are you putting together anything special for your front porch area this autumn? Do share!